HORNBY Digital Loco R3781X K&ESR, 'Terrier', 0-6-0T, No. 5 'Rolvenden' - Era 2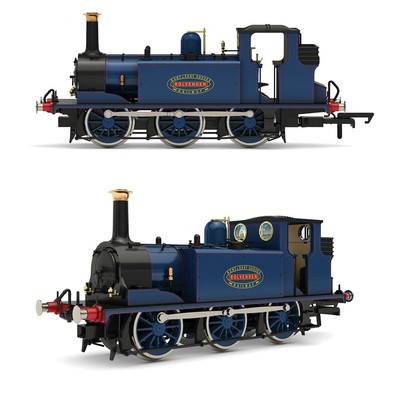 HORNBY Digital
Loco
R3781X K&ESR, 'Terrier', 0-6-0T, No. 5 'Rolvenden' - Era 2
HORNBY Digital
Loco
R3781X K&ESR, 'Terrier', 0-6-0T, No. 5 'Rolvenden' - Era 2
Having entered service as No. 71 Wapping, in June 1901 the locomotive was relegated to the L&BSCR 'duplicate list' as 671, during which time it was hired to a contractor, W. Rigby, for construction work on the Sheppey Light Railway. At the beginning of 1905, 671 was sold to the K&ESR, and the locomotive was renamed as No. 5 Rolvenden. Having been worked hard, Rolvenden was withdrawn in 1932, its parts being stripped to maintain No. 3 Bodiam.
CONVERT YOUR LOCOS TO DIGITAL
The HORNBY DIGITAL system differs from the conventional analogue type of control in that it is the individual locomotives that are controlled internally rather than the controlling of a locomotive's speed and direction by varying the current to the track.

The Hornby 'Select' and Hornby 'Elite' digital units when connected to the track pass not only a constant 15V AC voltage along the rails but also information signals to all locomotives and accessories that are on or are connected to the track.

Each locomotive that is DCC controlled must have internally fitted a small micro processor based receiver called a decoder.

IN BRIEF: Digital gives you multiple train control on all parts of a model railway layout with minimal wiring, from a single controller.

see
R8249 Digital Chip
in our shop

Read about
HORNBY DIGITAL
in our shop
Expand your layout, see more items
Bridges & Tunnels" src="https://d3d71ba2asa5oz.cloudfront.net/73000354/images/hnby-96-brdg.jpg" border="0">
ACCESSORIES
PLATFORMS
TRACK
BRIDGES &
TUNNELS
SKALEDALE

Details
Brand
Hornby
MPN
R3781X
Gauge
OO Gauge
EAN
5055286657269