BLOCKsignalling DAP1A Automatic Control Module Dapol Semaphore Signal LMS GWR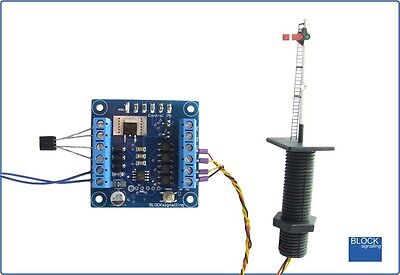 ---
BLOCKsignalling is a professional manufacturer of model railway electronics accessories based in the UK.
Our modules are designed to provide the most realistic operation with ruggedness and long-term reliability key
ingredients to ensure that they perform as expected for a long time to come.
Our semaphore signal module is designed to be triggered by a train passing over infra-red sensor which is
positioned below the track.

Fully configurable module offers realistic operation of semaphore signals.
Description
Self-contained control system which will operate a connected Dapol or other similar signal
whenever a train crosses the sensor.


Signal returns to its former position after a set time (adjustable).


Able to drive remote Red and Green leds on a control panel (not included).


Infra-red detector included.


Module operates from a supply between 10V and 16V (AC or DC). The connected signal
receives the same supply as connected to the module.
Leds and signal are not included.
---
---
Details
Brand
BLOCKsignalling
MPN
DAP1
EAN
619271536752