The Track Mop - N Gauge / OO9 Track Cleaner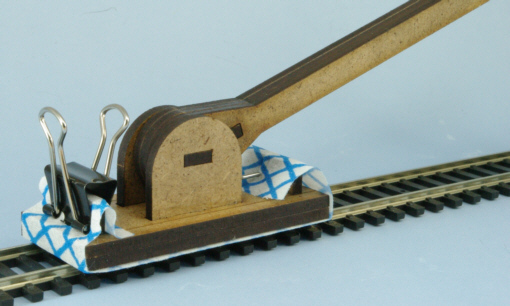 Safely clean the track where the hand can't reach!
The Track Mop was designed to solve the problem of cleaning N Gauge track without damaging any of the surrounding scenery. Fingers and hands cannot reach under bridges, into tunnels and through platforms without the risk of breaking small details that are close by. Unlike track cleaners mounted in a wagon, The Track Mop can clean right to the very end of a siding.
The Track Mop uses a replaceable cloth that can be soaked with whatever track cleaner you use, from meths to Rail Zip. Using a cloth means that the track does not get damaged in the same way that an abrasive cleaner would do.
The Track Mop comes as a kit made from 3mm laser cut MDF. There are just eleven pieces to put together, it's as simple as that.
The width of the base is designed for N gauge track (as used by OO9 modellers) but because The Track Mop is made from MDF, it is easy to add your own wider base from plywood or MDF to clean track with a wider gauge than N Gauge. So even if you are a OO Gauge modeller, you can still use The Track Mop.
Details
Modified Item
No
Country/Region of Manufacture
United Kingdom
Material
Wood
Gauge
N
Brand
Mill Lane Sidings
Postage
£1.00 | Estimated delivery after 3 business days