Graham Farish Scenecraft painted figures sets in N gauge (30 products)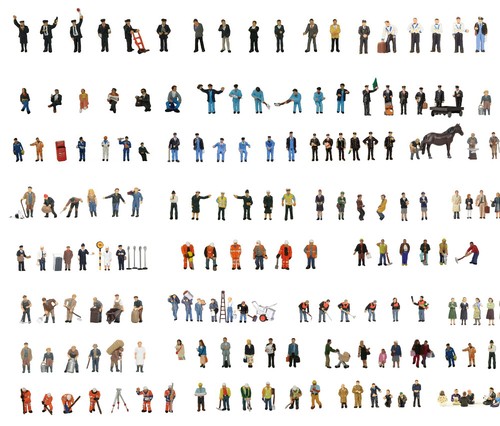 High quality painted figures sets in N gauge from Graham Farish (Scenecraft by Bachmann).
Each set contains 6 very detailed and realistic figures in various poses to bring life to model railway layouts. Some contains accessories too. Ready to use for indoor and outdoor installations.
30 different references.
You can buy one or more products of your choice :
379-300: Business People
379-301: Police and Security Staff
379-302: Construction Workers
379-303: Station Staff
379-304: Station passenger standing
379-305: Station passenger sitting
379-306: Shopping Figures
379-307: Steam Locomotive Staff
379-308: Building Site Details and Tools
379-309: Trackside workers
379-310: Permanent way workers
379-311: Traction Maintenance Depot Workers
379-312: Civil Engineers x6
379-313: 1960/70s Coal Miners
379-314: Trainspotters
379-315: 1960/70s Standing Station Passengers
379-316: Factory Workers and Foreman
379-317: 1940/50s Station Staff
379-318: 1960/70s Station Staff
379-319: Suburban Street Scene
379-320: 1950s Train Crew
379-321: 12 Seated Coach Passengers
379-323: Modern Farming Figures
379-324: Post-war Farming Figures
379-326: 1940/50's Livestock Farming Figures
379-327: Rural Tradesmen
379-328: 1960/70's Urban Workers
379-329: 1960/70s Tradesmen
379-330: 1960/70's Lineside Workers
You can buy with confidence as this listing is linked to our model shop on the Isle of Wight.

Free standard shipping included.
Details
Brand
Graham Farish
MPN
379xx