Kadee couplers (Magne-Matic) and railway models accessories (31 products)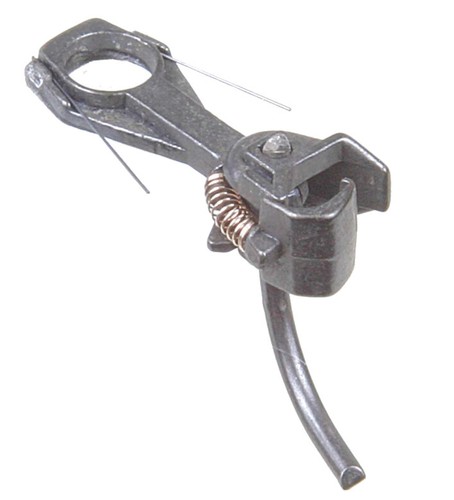 High quality Magne-Matic couplers / uncouplers, tools, washers and accessories form Kadee.
Kadee Couplers are famous since 1947, and the preferred choice of modelers world wide for their consistent, reliable hands-free coupling and uncoupling.
31 different references.
You can buy one or more products of your choice :
KDE5: Universal Metal Coupler and Insulated Draft Gear box Metal
KDE10: No.5 Bulk Pack Magne-Matic Couplers
KDE143: Metal Whisker Magne-Matic Coupler Short
KDE146: Metal Whisker Magne-Matic Coupler Long
KDE148: Metal Whisker Magne-Matic Coupler
KDE17: NEM 362 Short Coupler 7.11mm (.280'')
KDE18: NEM362 European Coupler Short 8.63mm (2 pairs)
KDE19: NEM362 European Coupler Long 10.76mm (2 pairs)
KDE20: NEM362 European Coupler Extra Long 11.68mm (2 pairs)
KDE205: HO Scale Coupler Height and Multi-Purpose Gauge
KDE206: HO Scale Insulated Coupler Height Gauge
KDE208: Red Insulating Washers .015'' (4dz)
KDE209: Grey Insulating Washers .010'' (4dz)
KDE21: 20 Series Coupler Long (25/64'') Underset
KDE210: Washers 1/32'' (2dz)
KDE232: Plastic Draft Gear Boxes and Lids (10 pairs)
KDE24: 20 Series Coupler Short (1/4'') Underset
KDE241: Dual Tool - Manual Uncoupling Tool and Built In Spring Pic
KDE242: Universal Black Box Snap-Together Insulated Gear Boxes
KDE26: 20 Series Coupler Long (25/64'') Centreset Shank
KDE262: Narrow Whisker Snap-TogetherInsulated
KDE27: 20-Series Coupler medium (9/32'') underset shank
KDE28: 20 Series Coupler Medium (9/32'') Centreset Shank (2pairs)
KDE308: Delayed Under the Track Uncoupler HO to O
KDE309: Delayed Electric Under the Track Uncoupler
KDE312: Non Delayed Between the Rails Uncoupler
KDE321: Permanent Magnet 'between-the-rails' Delayed Uncoupler
KDE334: Uncoupler Gluing Jig for No.312/321/322
KDE341: HO Track Gauge 70/100
KDE805: Standard Medium Centreset Shank Metal
KDE811: Between the Rails Uncoupler O gauge
You can buy with confidence as this listing is linked to our model shop on the Isle of Wight.

Free standard shipping included.
Details
Brand
Kadee
MPN
KDExx