N gauge wagons kits (26 differents models) - Peco KNR range - F1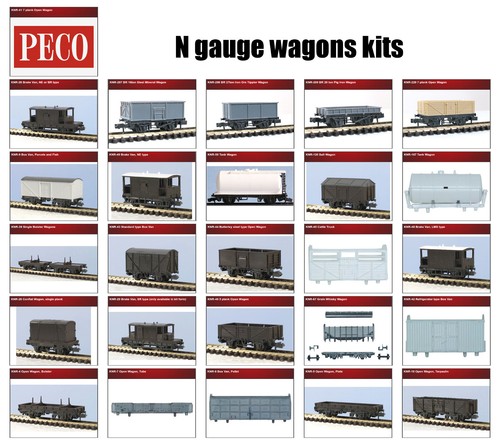 N gauge wagons kits from Peco KNR range
26 differents models in N gauge
You can buy one or more wagons of your choice :
KNR-29: 15ft wheelbase, SR Goods Brake.
KNR-120: 10ft wheelbase, Salt wagon
KNR-167: 10ft wheelbase, Tank wagon.
KNR-20: 10ft wheelbase, Conflat 1 plank
KNR-207: 9ft wheel base kit, BR 16ft steel mineral.
KNR-208: 9ft wheel base kit, BR 27ton iron ore tippler.
KNR-209: 9ft wheel base kit, BR 20ton pig iron.
KNR-220: 9ft wheel base kit, 7 plank open.
KNR-28: 15ft wheelbase, LNER/BR Goods Brake.
KNR-39: 10ft wheelbase, single Bolster (pair).
KNR-4: 15ft wheelbase, Bolster Wagon.
KNR-40: 10ft wheelbase, 5 Plank Open.
KNR-41: 10ft wheelbase, 7 Plank Open.
KNR-42: 10ft wheelbase, Refrigerator box van.
KNR-43: 10ft wheelbase, standard box van.
KNR-44: 10ft wheelbase, Butterley Steel Open.
KNR-45: 10ft wheelbase, Cattle truck.
KNR-48: 10ft wheelbase, LMS Goods Brake.
KNR-5: 15ft wheelbase, Plate Wagon.
KNR-50: 15ft wheelbase, Tanker.
KNR-7: 15ft wheelbase, Tube Wagon.
KNR-8: 15ft wheelbase, Pallet van.
KNR-9: Box Van, Parcels and Fish
KNR-10: 15ft wheelbase, Tarpaulin open Wagon
Consisting of a one-piece body moulding, chassis, wheels and couplings, these wagons kits are essentially unpainted and unassembled... but very quick and easy to assemble!
Buy with confidence as this listing is linked to our model shop on the Isle of Wight.
Details
Brand
Peco
MPN
KNRXXX