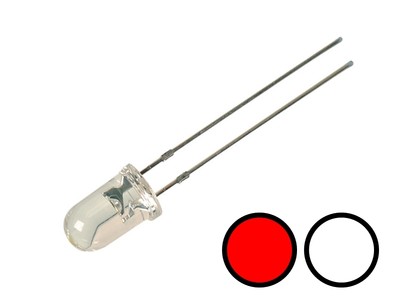 10 items DUO Bi-Color LEDs   5mm   white / red clear

We offer here a very rare type LED with two colors in a standard   5mm   Housing.

It lights up depending on the polarity of red or white (color change by phase inversion).

Ideal for eg   directional lighting   with   Locomotives and   Railcars, Wendezug more. for analog DC railways


Specifications:



Design - 5mm
Light color - red and white
Voltage - red = 2,00 V DC   and white 3,00 V DC
Current - each color max. 20mA
Beam angle - 30 °
Luminosity - ka
Body Colour - clear
Connection - 2-pole (bipolar - color change polarity exchange)
The connection scheme 1 shows the connection of 4 LEDs with only 2 resistors. The small disadvantage of this simple circuit, the use of only one resistor for both colors. The value of the resistor determines the light intensity. It is thus not possible to adjust the brightness of the two colors separately.
The connection diagram 2 is slightly more complex. Here the advantage lies in the use of diodes 1N4148. Now you can use 4 resistors and thus the brightness of each individual set glow color separately.
The values ​​of the resistors are determined by the maximum driving current and in addition to your individual   Ideas for brightness.
If you opt for the connection scheme 1, you need at a driving voltage of eg max .:
10V - 470 ohms
12V - 560 ohm
14V - 680 ohm

If you opt for the connection scheme 2, you need at a driving voltage of eg max .:
10V - 470 Ohm for red and 390 ohm for E.g. White
12V - 560 ohm for red and 470 ohms for E.g. White
14V - 680 ohm for red and 560 ohm for E.g. White

The specified resistance values ​​are the minimum values. Do you want to reduce the luminosity, then just use resistors with higher values.
Enjoy your shopping !!
Important note to the checkout when purchasing multiple items
Please be sure when buying several only visit make sure article that you "now pay the eBay Checkout", after you have purchased all the items. Only summarizes your order to an order. So that the shipping costs are calculated only once by eBay, you must go through the checkout process finally!

Cost of shipping abroad for multiple purchases please enquire - please inquire the international shipping costs for multiple purchases before you pay!
Shipping Partners
We ship with DHL and Deutsche Post reliably.