1930s Leeds Model Co '0' Gauge Pullman Car Artwork. Colour Printing Plate A3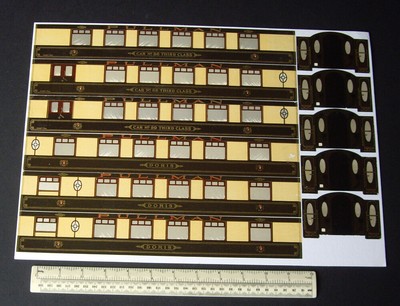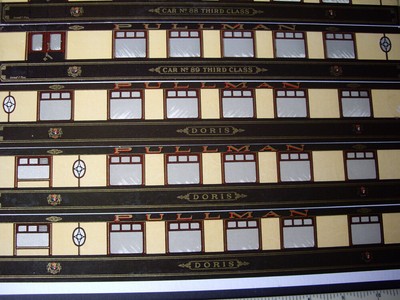 Somerset, United Kingdom ends 2019-06-21 19:04:05
1930s Leeds Model Co '0' Gauge Pullman Car Artwork. Colour Printing Plate A3
This is a printing plate I made up 30 or 40 years ago for use on what were then the new colour photocopy machines. The Leeds Model Company Pullman Artwork is original and has been fixed permanently to an A3 sized piece of cardboard (16.5" x 11.65" inches). The original artwork was intended to be applied to solid wood Model Coaches. Leeds Model Company supplied the blanks for these Coaches and they also supplied the Running gear and Couplings. Presumably the whole thing was also supplied as a complete kit. The end result was quite effective and had a certain amount of period charm. You will see from the photographs that we have side elevations for Number 86, Number 88, Number 89 and three of "Doris". Underneath the Connecting Car Doors it reads "Pullman Car Co. Ltd. Built by LMC". Condition: there is a very slight amount of surface damage to the right hand end of one of the Doris Cars which could easily be resurfaced. Other than that the whole plate is still suitable for creating reproductions, or for display as a piece of interesting 1930s artwork.
Postal Charge. UK internal delivery is GBP3.95. Overseas Post: Please view the rates for your Country on the second page of this listing. Note that the initial purchase will carry the cost of Airmail plus the Tracking Fee (a PayPal requirement). Any additional purchases (combined) will only increase the Airmail Postal Charge by a nominal amount as the Tracking Fee has already been paid.
Payment.
Your choice. PayPal, GBP£ Personal Cheque, GBP£ Cashiers Cheque, GBP£ Bank Credit Transfer, GBP£ Postal Order.
Be sure to check out our other interesting items by clicking on "See other items".
(1" inch = 2.54cm)
Details
State of Assembly
Kit
Country/Region of Manufacture
United Kingdom
Vintage (Y/N)
Yes
Material
Paper
Year
1930s
Gauge
0
Brand
Leeds Model Co
Postage
£3.95 | Estimated delivery after 4 business days