.

THIS OFFER IS A PART EXCHANGE SERVICE FOR REPLACEMENT 3-POLE ARMATURES FOR TO SUIT HORNBY DUBLO 'STEAM' AND 'DIESEL' LOCOMOTIVES. MAY ALSO SUIT WRENN APPLICATIONS. SUBJECT TO AVAILABILITY

5-POLE

EXCHANGE ARMATURES ARE ALSO AVAILABLE FOR AN ADDITIONAL COST OF £4 EACH ABOVE THE PRICE QUOTED FOR 3-POLE ARMATURES.
PLEASE BE ASSURED THAT MY SUPPLIER HOLDS AN COMPREHENSIVE RANGE OF 3-POLE ARMATURES FOR EXCHANGE (ALTHOUGH YOU SHOULD CONTACT ME VIA EBAY MESSAGING ABOUT THE AVAILABILITY OF 5-POLE EXCHANGE ARMATURES BEFOREHAND)
I SUPPLY RECONDITIONED ARMATURES IN EXCHANGE FOR FAULTY UNITS STRICTLY ON A LIKE-FOR-LIKE BASIS. PLEASE BE AWARE THAT I CANNOT SUPPLY ARMATURES WITHOUT AN OTHERWISE SERVICEABLE ARMATURE EXCHANGE PROVIDED BY THE BUYER. EXTRA CHARGES WILL APPLY FOR ARMATURES WHICH ARE SENT FOR EXCHANGE WITH ANY OTHER NON SERVICEABLE PARTS WHICH REQUIRE REPLACEMENT (eg A FAULTY COMMUTATOR).
THIS IS A CONDITION OF ANY SALE.
PLEASE CHECK OUT THE FOLLOWING-
EXCHANGE ARMATURES ARE AVAILABLE FOR MOST 2-RAIL & 3-RAIL HORNBY DUBLO STEAM LOCO MOTORS INCLUDING CLASSES N2 (0-6-2T), 4MT (2-6-4T), DUCHESS (4-6-2), A4 (4-6-2) AND WEST COUNTRY (4-6-2), CITY (4-6-2), CASTLE(4-6-0), AND 2-8-0.
EXCHANGE ARMATURES ARE ALSO AVAILABLE FOR MOST 2-RAIL & 3-RAIL HORNBY DUBLO DIESEL MOTORS INCLUDING BO-BO, CO-CO, CO-BO, DIESEL SHUNTER AND SOUTHERN EMU.
SOME 5-POLE ARMATURES ARE ALSO AVAILABLE FOR EXCHANGE. PLEASE CHECK FOR AVAILABILITY AND BE AWARE OF THE ADDITIONAL £4 COST OF EACH.
THE OFFER REQUIRES THE BUYER TO POST THEIR OLD ARMATURE (SECURELY PACKAGED AND THE CORRECT POSTAGE PAID) TO ME,

TONY PRESTON, 13 BROOKE CLOSE, BALDERTON, NEWARK, NG24 3QN.

SIGNED FOR RECORDED DELIVERY IS PREFERRED (IF NOT, AT BUYERS RISK) .

PLEASE RECORD YOUR INTEREST BY 'BUYING' ON EBAY IN THE USUAL WAY BEFORE POSTING ANY ARMATURE FOR EXCHANGE.

PAYMENT IS PREFERED BY CHEQUE (ENCLOSED WITH THE ARMATURE) OR ON-LINE INSTANT BANK TRANSFER (PLEASE CONTACT ME FOR MY ACCOUNT DETAILS), ALTHOUGH PAYPAL (NO E/CHAQUES PLEASE) IS ALSO ACCEPTED. OVERSEAS PAYMENT BY PAYPAL (NO E/CHEQUES PLEASE) ONLY PLEASE.

ON RECEIVING THE ARMATURE (AND PAYMENT) I SHALL POST A RECONDITIONED ARMATURE OF THE SAME PATTERN TO THE BUYER. THIS MAY BE SUBJECT TO A SHORT DELAY OF A COUPLE OF DAYS IF A REPLACEMENT ARMATURE IS NOT TO HAND AND I NEED TO OBTAIN ONE FROM MY SUPPLIER. YOU WILL BE KEPT ADVISED OF COURSE.

THIS OFFER IS SUBJECT TO MY USUAL GUARANTEES OF SATISFACTION AND BOTH MY SUPPLIER AND I OFFER A NO QUIBBLE GUARANTEE.
THIS OFFER IS FREEPOST TO THE UK. OVERSEAS BUYERS PLEASE BE AWARE THAT AIRMAIL RATES ARE AS QUOTED BUT INTERNATIONAL TRACKED SHIPPING IS ALWAYS REQUIRED FOR INTERNATIONAL ORDERS. PLEASE BE AWARE THAT I OFFER THIS EXCHANGE SERVICE FOR HORNBY DUBLO APPLICATIONS ONLY ALTHOUGH SOME WRENN APPLICATIONS MAY APPLY.
FOR MORE BARGAINS PLEASE CHECK OUT MY SHOP AT TONYSSTOREONLINE.
OVERSEAS BUYERS ARE WELCOME BUT PLEASE CHECK OUT THE PAYMENT AND POSTAL ARRANGEMENTS.
THANKS FOR READING THE SMALL PRINT BELOW - IT'S THERE FOR YOUR PROTECTION - AND MINE, AND TO AVOID MISUNDERSTANDINGS. WHY NOT CHECK OUT MY OTHER ITEMS AND ALSO MY FEEDBACK FOR YOUR REASSURANCE.
HAPPY BUYING
Click image to enlarge
PLEASE NOTE THAT ALL OVERSEAS ORDERS REQUIRE TRACKED SHIPPING ACCORDINGLY ALL OVERSEAS CUSTOMERS ARE ADVISED TO AWAIT A COMBINED SHIPPING INVOICE BEFORE PAYING FOR MULTIPLE ITEMS.

NEW EBAY USERS SHOWING A FEEDBACK SCORE OF LESS THAN 10 TRANSACTIONS, PLEASE NOTE THAT IMMEDIATE PAYMENT IS REQUIRED FOR ANY ITEMS PURCHASED. FOR SUCH BUYERS THEIR TRANSACTION WILL BE CANCELLED WHEN I CHECK MY PAYMENT SUMMARY UNLESS THEIR PAYMENT HAS BEEN RECEIVED. THIS IS BECAUSE OF A HIGH PROPORTION OF NEW EBAY TIMEWASTERS WHO HAVE RESERVED MY ITEMS BUT I HAVE NEVER HEARD FROM THEM AGAIN. OF COURSE, ALL PAID FOR ORDERS WILL BE HONOURED AS NORMAL.

ALL REMAINING EBAY BUYERS PLEASE READ ON -

UK CUSTOMERS. Payment WITHIN 2 DAYS please by on-line immediate bank transfer (free) (please contact me for my bank details);cash on collection (free). Posted cheque or Postal Order payments must arrive within me 3 working days (not incl Sundays). Cheque payments may take up to 7 days for clearance before item(s) can be dispatched.
PLEASE BE AWARE THAT PAYPAL IS NOT MY PREFERRED PAYMENT METHOD DUE TO PAYPAL FEES AND THAT I DO NOT ACCEPT PAYMENTS BY PAYPAL ECHEQUES.
OVERSEAS CUSTOMERS - All items - PAYMENT WITHIN 2 DAYS by Paypal only please.
PLEASE BE ADVISED
- In ALL cases where a customer has failed to contact me or make payment, a polite reminder to pay will be sent BEFORE the 48 hours has elapsed.
DUE TO SLOW PAYING BY SOME BUYERS, ALL EBAY CUSTOMERS PLEASE BE AWARE THAT I DO NOT APPLY EXTENDED CREDIT ON BOUGHT ITEMS. THE ABOVE TIMES FOR ALLOWED PAYMENT WILL NOT BE VARIED AND IF NO PAYMENT HAS BEEN MADE THEN A UPI REMINDER CASE WILL BE OPENED AFTER 48 HOURS (OR 72 HOURS IN THE CASE OF POSTAL PAYMENTS). THE BUYER WILL THEN HAVE 4 DAYS TO PAY.
PLEASE BE AWARE THAT I SHALL SHIP ONLY TO A BUYER'S PAYPAL CONFIRMED ADDRESS - OR TO A BUYER'S EBAY CONFIRMED ADDRESS WHEN PAYPAL IS NOT THE METHOD OF PAYMENT USED. THIS IS DUE TO EBAY/ PAYPAL SELLER PROTECTION REGULATIONS. THERE ARE NO EXCEPTIONS, SO PLEASE DONT ASK AS A REFUSAL MAY OFFEND.
ALL EBAY CUSTOMERS SHOULD BE AWARE THAT EBAY NOW LEVIES A FEE OF AROUND 10% ON ALL SHIPPING COSTS CHARGED TO ALL BUYERS. THIS IS IN ADDITION TO THE NEAR 10% DEDUCTED FROM CUSTOMERS PAYMENTS (WHICH INCLUDE SHIPPING CHARGES) BY PAYPAL. RELUCTANTLY, MY ADVERTISED EBAY SHIPPING COSTS AND FREEPOST PRICES NOW REFLECT THE LEVY WHICH ALL EBAY SELLERS ARE REQUIRED TO PAY ON SHIPPING CHARGES.
INLAND/OVERSEAS - quoted shipping rates include shipping (with tracking as appropriate) and a packing/handling charge.
OVERSEAS - Sometimes it is not possible to quote a shipping rate on the listing, especially for larger items which cannot be sent by Royal Mail Airmail and necessitate a courier service. All overseas customers are asked to enquire about the cost of shipping where not shown BEFORE buying in order to prevent nasty surprises later. Please be aware that all international orders value require tracked shipping to ALL destinations. Overseas buyers should NOT pay without awaiting a combined invoice.
PLEASE BE AWARE THAT ALL CUSTOMS IMPORT COSTS/CHARGES ARE PAYABLE BY THE BUYER.
MY 'PACKING' CHARGES INCLUDE THE COSTS OF PACKING MATERIALS, PICKING & PACKAGING OF ORDERS, MISCELLANEOUS STATIONERY, PRINTING OF ADVICES/INVOICES, DAILY RETURN TRAVEL EXPENDITURE TO POINTS OF DISPATCH, PROCESSING OF RETURNED ITEMS, REFUNDS, AND OTHER COSTS WHICH ARE INCURRED. EBAY SHIPPING QUOTATIONS ALSO INCLUDE THE LEVY CHARGED BY EBAY AND PAYPAL.
OVERPAYMENTS, where combined shipping charges should have applied, are not refunded. Buyers of multiple items should request or await a combined shipping invoice BEFORE paying.
Please be aware that FREEPOST items for the UK do not qualify for combined shipping reductions.
PLEASE NOTE: GUARANTEED 24 HOUR SHIPPING IS PROMISED ON ALL ITEMS FOR WHICH (CLEARED) PAYMENT IS RECEIVED BEFORE 7AM MONDAY TO SATURDAY. in practice I ship right up to the time of leaving home daily for the point of dispatch. However, there are times when I go out for the day - hence the 7am deadline for actually 'guaranteed' SAME DAY posting. However, ALL items are posted within a maximum '24 hours' (except Bank Holidays or weekends).
I usually quote for the least expensive method of shipping by 2nd class post or courier. Buyers are advised not to be misled when ebay quote a delivery date which, in the case of Royal Mail, is only a date which RM 'aims' to achieve - but often it doesn't. If a time targetted delivery is important to any UK buyer then they should request a shipping upgrade to Special Next Day. International buyers should also request upgrading of service appropriate to their destination.
PLEASE NOTE THAT I AM NOT ABLE TO SHOW ANY DIFFERENTATION IN SPECIAL NEXT DAY SHIPPING RATES BETWEEN MONDAY TO FRIDAY DELIVERIES AND SATURDAY ONLY DELIVERIES FOR WHICH RM CHARGE ABOUT DOUBLE THE EVERYDAY RATE. I THEREFORE QUOTE THE LOWER RATE ON THE LISTINGS. PLEASE AWAIT A REVISED INVOICE SHOULD THE SPECIAL NEXT DAY DELIVERY BE EXPEDITED ON A FRIDAY.
RETURNS POLICY - TERMS OF SALE
BUY-IT-NOW ITEMS.
PLEASE DO NOT USE EBAYS MANAGED RETURNS SYSTEM WITHOUT CONTACTING ME FIRST. IT MAY PROVE TO BE A MORE EXPENSIVE OPTION AND I WILL NOT REFUND YOU THE DIFFERENCE.
These are subject to a 30 day "cooling off" period during which time the customer may elect to return their purchase for a refund of the purchase price (including P+P costs).
Please contact me to advise me that you wish to return your item due to 'customer remorse' within 30 days of buying and to confirm my address. It must be returned unused, in its original condition and, if appropriate, still in its original packaging, by tracked shipping at the buyers expense.
THE ABOVE STATEMENT IS IN ACCORDANCE WITH THE REQUIREMENTS OF THE DISTANCE SELLING REGULATIONS AND RELATES TO BUY-IT-NOW PURCHASES ONLY.
AUCTION ITEMS.
PLEASE DO NOT USE EBAYS MANAGED RETURNS SYSTEM WITHOUT CONTACTING ME FIRST. IT MAY PROVE TO BE A MORE EXPENSIVE OPTION AND I WILL NOT REFUND YOU THE DIFFERENCE.
PLEASE NOTE: DSR's DO NOT APPLY TO ITEMS SOLD AT AUCTION.
Auction items are NOT sent on approval, so please be sure you want the item before you buy. Returns for return of non faulty items by tracked shipping are accepted for within 30 days by prior agreement, but shipping costs in either direction are non refundable.
If you consider that any item is 'significantly not as described' then please contact me within 3 days to advise that there is a problem. It may be possible to agree a resolution without returning the item for a full refund which would incur avoidable shipping costs. If agreed then it may be returned for a refund of the purchase price (including the paid shipping charge) provided that I receive the item in the same condition in which it was sent. It must be returned to me by tracked shipping by the least expensive carrier method. Irrespective of which service you choose to use, you will only be refunded the cost of the cheapest tracked method of return shipping, which I shall advise on request.
ALL ITEMS DELAYED OR LOST IN TRANSIT
I COMPLY WITH REQUIREMENTS IN THAT I REFUND BUYERS FOR ANY ITEMS LOST IN TRANSIT. THIS INCLUDES SHIPPING COSTS.
ITEMS SHIPPED BY ROYAL MAIL - NEITHER ROYAL MAIL NOR I WILL ACCEPT CLAIMS FOR WHAT ROYAL MAIL CLASSIFY AS 'DELAYED ITEMS' UNTIL THE REQUIRED PERIOD FOR DELIVERY IS EXPIRED. THE 'DELAY' PERIODS ARE AS FOLLOWS: UK PACKAGES - 13 WORKING DAYS /EUROPEAN PACKAGES - 25 WORKING DAYS /REST OF WORLD PACKAGES - 32 WORKING DAYS. (Royal Mail does not regard Sundays and Bank Holidays as 'working' days). PLEASE DO NOT EXPECT ANY REFUNDS TO BE PAID BEFORE THESE DELIVERY TIMES ARE PASSED BECAUSE YOUR ITEM MAY STILL BE DELIVERED..
PLEASE BE PATIENT AND CONTACT ME AFTER PERIODS ALLOWED FOR DELIVERY HAVE EXPIRED - AND YOUR ITEM IS THEREFORE CLASSED AS 'LOST'. IN THE MEANTIME PLEASE CHECK WITH YOUR LOCAL DELIVERY OFFICE TO CHECK IF THEY ARE HOLDING YOUR DELAYED ITEM. UK BUYERS PLEASE BE AWARE THAT UNLESS YOU HAVE REQUESTED (AND PAID FOR) TRACKING ALL ORDERS UNDER £20 IN VALUE ARE NOT SENT TRACKED. OVERSEAS BUYERS PLEASE BE AWARE THAT ALL ORDERS ARE SENT TRACKED BECAUSE OF RECENT PROBLEMS WHERE CONSIGNMENTS HAVE BEEN LOST IN TRANSIT.
ITEMS SHIPPED BY COURIER ARE ALWAYS TRACKED BUT PLEASE NOTE THAT A SIGNATURE MAY NOT BE REQUIRED FOR SOME TRACKED ITEMS. FOR ANY UNDELIVERED ITEMS THE COURIERS INVESTIGATIONS MUST ALWAYS BE COMPLETED BEFORE ANY COMPENSATION IS PAID.
PLEASE BE AWARE THAT I DO NOT REPLACE LOST ITEMS ON A LIKE FOR LIKE BASIS - EVEN IF AVAILABLE - FOR ACCOUNTING REASONS. HOWEVER, THE BUYER IS INVITED TO PURCHASE A REPLACEMENT ITEM WITH THE REFUND IF STILL REQUIRED.
I MAKE EVERY EFFORT TO OFFER A GENUINE SERVICE WITH HONEST DESCRIPTIONS (WHICH MAY BE MY SUBJECTIVE OPINION) WHICH ARE GIVEN IN GOOD FAITH AND WITHOUT ANY ATTEMPT TO DECEIVE OR MISLEAD. HOWEVER, FROM TIME TO TIME MISTAKES OR DIFFERENCES OF OPINION MAY ARISE.
PLEASE EXTEND THE COURTESY OF DISCUSSING ANY PROBLEMS ENCOUNTERED WITH A VIEW TO REACHING AN AMICABLE SOLUTION TO PROBLEMS PRIOR TO OPENING AN OFFICIAL CASE OR REPORTING A DISPUTE. IRRESPECTIVE OF WHETHER OR NOT YOU CHOOSE TO OPEN A CASE, PLEASE CONSIDER THAT AT THE END OF THE DAY I PREFER SATISFIED CUSTOMERS WHO ARE HAPPY TO RECOMMEND ME TO THEIR FRIENDS. IT HAS BEEN MY EXPERIENCE THAT AN AMICABLE RESOLUTION IS ALWAYS POSSIBLE GIVEN GOODWILL ON BOTH SIDES.
I ALWAYS RECIPROCATE WITH APPROPRIATE FEEDBACK IMMEDIATELY AFTER MY BUYER HAS LEFT FEEDBACK.
PLEASE REMEMBER THAT YOU HAVE SIGNIFIED YOUR ACCEPTANCE OF THESE TERMS BY COMPLETING YOUR PURCHASE.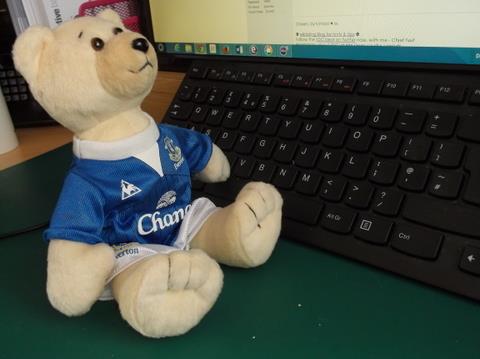 Hi. Thanks for visiting our shop.
We have traded since 2002 and have helped our many returning customers to source many unusual or hard to find model trains and spares from our base in Newark, UK.
I'm retired now, but my partner Bluenose Bear (see his pic - he's a bit younger than me) and I will try hard to find more bargains for you, so please give us a look in whenever you are passing.
Thanks again, and we hope to see you again soon.
Good wishes from Tony and Bluenose.
W.E.F. SEPTEMBER 2017 EBAY HAVE NOT ALLOWED SELLERS TO DISPLAY THEIR CONTACT INFORMATION ON THIS PANEL.

HOWEVER, PLEASE SCROLL FURTHER DOWN THIS LISTING TO WHERE MY BUSINESS SELLER INFORMATION IS SHOWING. THEN CLICK ON THE BLUE COLOURED 'COMPLETE INFORMATION' TAG AND EBAY WILL SHOW ALL MY CONTACT DETAILS AS BEFORE.