1 Model Working Self-Contained Red Flashing G-Scale SM32 16mm 1:19th Tail Lamp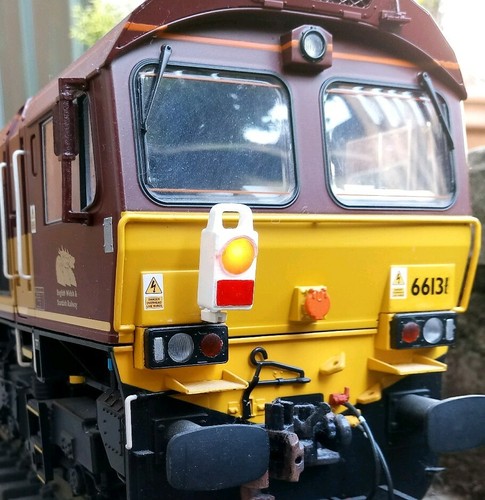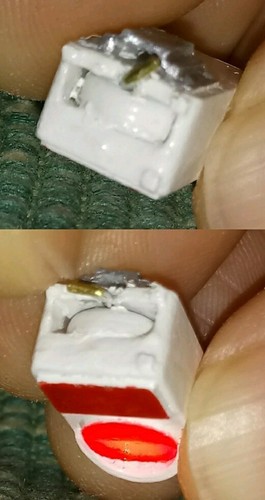 Chester, United Kingdom ends 2019-07-16 19:00:03
A single painted working self-contained G-Scale model modern style Dorman B.R. & European railways flashing red taillamp - end of
train
device or FRED.
It's 16mm to the foot scale for SM32 2-foot
narrow gauge
on 32mm O-gauge
track
- or for use with other sizes of G-scale if you don't mind it being that bit bigger.  The
first
prototype shown for example on an
Aristocraft
66 (1:29th), which also has our 3D printed side mirrors and articulating combo knuckle-hook couplings.
The back of the lamp has a functional lamp mounting bracket. Two standard AG1 batteries are fitted through the bottom. It's turned on/off by rotating a
brass
wire switch in the base.
See
video
of the flashing posted at my instagram:
https://www.instagram.com/precisionpics
These will be sold in the future direct through our website as unpainted
white
resin 3D prints from our Formlabs printers, with the electronics inside, ready to be painted. Here we used Revell acrylics on the
body
and Tamiya clear red on the lens of this example.
Details
Brand
Precision 3D Models
Colour
Red Silver White
Power Supply
DC
Type
lamp
Material
Resin
Features
Light function Painted
Postage
£1.06 | Estimated delivery after 2 business days